Many people are confused regarding board certification in cosmetic surgery versus plastic surgery. Many believe they are one in the same, but the truth is that not all plastic surgeons are cosmetic surgeons, thus the terms are not interchangeable. In fact, the two terms are not technically correct. They are closely related, but not the same.
Both cosmetic surgery and plastic surgery deal with improving the patient's body. However, the way to get to board certification in each of these disciplines may be different. A cosmetic surgeon is one who has first gone through a surgical training residency and had further training in cosmetic surgery. It is practiced by doctors from a variety of medical fields, including plastic surgeons.
To become board certified in cosmetic surgery, the surgeon must not only complete the surgical residency, but must also complete further training in cosmetic surgery. Plastic surgeons are one of the surgical specialists who can do this. Others include the surgical specialties of OB-GYN, ENT, and  General Surgery.
Cosmetic surgeons become certified by extensive training specifically focused on cosmetic surgery. However, according to the American Board of Cosmetic Surgery (ABCS), most of the training that the majority of plastic surgery residencies provide deals with reconstructive/plastic surgery and not cosmetic surgery (1). The plastic surgery society even changed its name in 1999 to emphasis their focus on plastic and reconstructive surgery (2). An ABCS article demonstrates in graphic form (noted below) that only a small part of the training of plastic surgeons is dedicated to cosmetic surgery.  The following graphic gives you an idea of the difference in the training requirements to become board certified in Plastic surgery versus cosmetic surgery: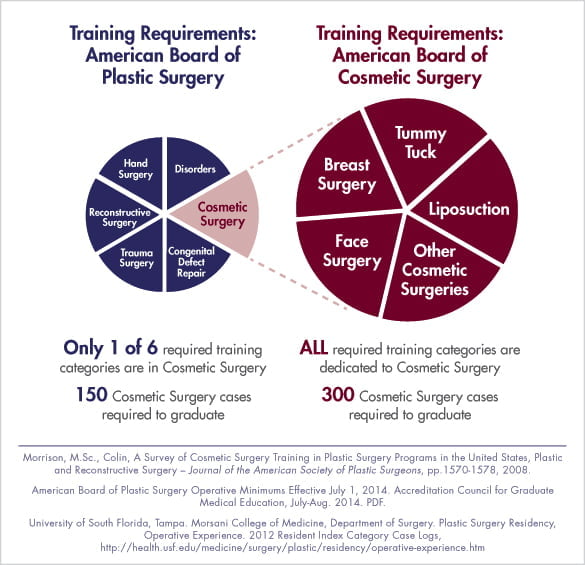 Graphic Provided By: American Board of Cosmetic Surgery

Moreover, the residency training required to become board certified in plastic surgery may not include training with respect to many common cosmetic procedures (3). For further information regarding these differences, please visit the website of the American Board of cosmetic surgery.

The Texas Medical Board has set guidelines for a physician to be able to advertise board certification status. These guidelines are in the board rules, specifically board rule 164.4. There are two pathways in this board regulation that allow physicians to advertise their board status: 1) 164.4(a) – as a member of an American Medical Board Specialty (ABMS), and 2) If the board has received authorization from the TMB through the requirements set forth in 164.4(b) and 164.5.

Members of the American Board of Cosmetic Surgery are approved to advertise board certification status in this field because they have been authorized to do so by the TMB according to the latter requirements (164.4(b)). Plastic surgeons have been approved to advertise this status via the first part of the board rule, 164.4(a).

Just like in any profession, the skill of the surgeon really depends a lot on the talent of the surgeon. Good and bad results of cosmetic surgeries can occur, regardless of which pathway the surgeon got his/her  board certification and advertising status, as many people have witnessed on the show "Botched".  Getting to know and trust your surgeon, looking at his/her before and after photos, and clicking with his/her personality are all important factors that each person should assess regarding who to choose as his/her preferred cosmetic surgeon. Ultimately, it is a matter of who you trust to do your cosmetic surgery.

References:

(1) http://www.americanboardcosmeticsurgery.org/patient-resources/cosmetic-surgery-vs-plastic-surgery/

(2) https://www.plasticsurgery.org/about-asps/history-of-plastic-surgery   1999 slide

(3) Morrison, M.Sc., Colin, A Survey of Cosmetic Surgery Training in Plastic Surgery Programs in the United States, Plastic and Reconstructive Surgery – Journal of the American Society of Plastic Surgeons, pp.1570-1578, 2008.

Filed under: